Articles

1. In the export window you choose Web.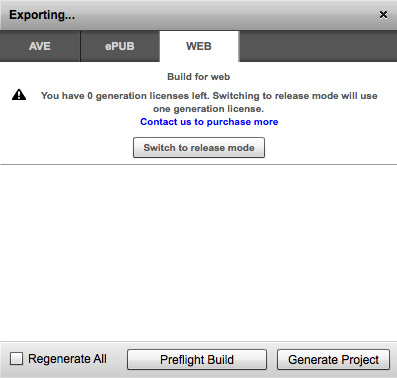 2. When you are ready to generate the actual Web file, you can choose the "Switch to Release Mode" button.
In order for you to be able to use the "Switch to Release Mode" button, you must first purchase a licenses at
http://cloud Connect.aquafadas.com/en/#/
home.
The license is connected to your Cloud Connect user name. Therefore, when you login to your account in the Project Manager panel it will recognize how many licenses you have. Once you use a license, it will be connected to your project. This means that you can generate as many Web files as you want for that project.
3. You can then export to Web.
4. You can preview this file by opening it in a Browser. You will need to go to System Preferences > Flash Player > Advanced > and add the directory of the folder in Trusted Location Settings.